15 Best Photo to Cartoon Apps for Android and iOS Free of Cost
Are you looking to add a touch of whimsy to your photos and turn them into hilarious cartoons? You can turn your photos into fun and whimsical cartoons, but selecting the best photo to cartoon apps according to your needs can be daunting. Now let's go to your worries in this selection, as I've rounded up the exceptional cartoonize apps after my thorough research and evaluation. By selecting anyone from these apps, you can turn your pictures into vibrant and imaginative works of art.
At a Sight
ToonArt: Cartoon Yourself
ToonArt authorises you to choose an image from a photo gallery or a selfie camera and to convert it into 3D cartoons by applying certain trending effects and filters. It provides endless montage filters including toonify, beauty face portrait, yellow head, face child, oil painting, etc. to turn our photos into cartoons. This app is more annoying for perfectionists because they can adjust some elements in the template that don't contrast with the edited image.
It also provides an eraser feature to remove unwanted details by adjusting the thickness and opacity. It provides different drawing templates to convert faces into cartoons along with the option to select colours and designs, so users can easily customise everything by integrating numerous outstanding features. Using its artistic avatar filter, neon spirals, and legendary emojis, we can transform our photo into a comic, cartoon, or maga within a few seconds.
In short, this fantastic app allows us to create avatars like Remini, animations, artistic cartoons, and glamorous styles along with cropping and resizing ability. Moreover, one thing that increases our curiosity is the automated settings for mobile users, as they don't need to perform manual settings.
MomentCam: Cartoons & Stickers
In MomentCam, we can customise everything according to our mood, as we can replace the background of our photos according to different occasions in the latest Mojiworld features. We can express our mood in the cutest way by creating funny cartoons, emoticons, and personalised avatars.
The unique feature of this app that makes it different from other photo to cartoon apps is the availability of full customization of the entire avatar, including nose, mouth, eyes, eyebrows, beard, and even glasses. Moreover, in MomentCam, we can share our creations with our family and friends on social networks. It also offers a community of like-minded people and allows us to win prizes by showcasing our masterpieces to them.
Comics and Cartoon Maker
The comic is a free app with a straightforward user interface that allows users to turn their photos into cartoons. Something that differentiates it from others is an array of speech balloons that help us to create a more authentic comic book or cartoon look and feel. This app is lightweight, so we can run it smoothly even on old smartphones.
It provides unlimited features without spending a single dollar, like a photo to cartoon feature and speech balloons. Still, we can level it up by purchasing additional features from the Big Sale section for further customization. It's the only platform that offers an opportunity to showcase our artistic flair in storytelling and photo editing within a unified space. Moreover, it's important to make our pictures unique by providing fabulous filters like stamps and lucid.
ToonApp: Cartoon Photo Editor
ToonApp is one of the best AI avatar photo caricature makers that help us to give a comic style to our selfies incredibly within a few seconds. It provides dozens of backgrounds designs and layouts to create realistic scenes and cartoon characters. It provides different face filters to switch cartoon styles along with cropping and resizing features.
Moreover, its built-in background remover tool offers an opportunity to extract the direct subject and make awesome changes to create an amazing toon in our artwork. We can create curiosity and fun in our portraits by editing amazing visual elements like stars, coloured splashes, and glowing hearts with every cartoon vector like oil painting, sketch art, etc.
Voilà: AI Artist Cartoon Avatar
Transform your ordinary photos into extraordinary works of art like 3D Pixar animations by Voila AI Artist Cartoon Avatar. With this app, we feel a thrill by converting our images into stylish works of art like funny cartoons, unique paintings, and hand-painted masterpieces, as we get breathtaking results. It provides new and exciting ways to unleash our inner artists and to create something remarkable that will leave a lasting impression on our friends and followers.
Using this app, we can make fun with our friends and followers on social networks by creating funny caricatures like smiling faces, big eyes, etc. Furthermore, we can create a sense of history in our images by turning them into ancient photos from the 15th and 18th centuries.
We can transform our photo into a royalty cartoon or a baby cartoon version and can get hilarious caricature drawings. According to the model, a user chooses from the start, it provides many vital modifications within the same frame, like in colours and brushes. So, the user can customise everything according to different design effects.
ToonMe: Cartoons From Photos
Try ToonMe if you want to envision yourself in charming cartoon characters, as it effortlessly allows you to create cartoon selfies and characters. It provides top and trending cartoon effects free of cost that everyone can explore without formal training in cartoon art. Moreover, you can turn yourself into a lively animated character and can get the outcome only in one tab. For entertainment, you can also resemble a comic, TV show, or even a Springfield character.
It provides an enormous library of photo filters in its cartoon creator features to create a fabulous 3D cartoon face or full-body photo art. This app offers high-quality designs and layouts for editing vector images and for tracing full body cartoon images. Its advanced features help us to create dynamic and vibrant images.
Using its innovative artificial intelligence, we can add charming stickers and other customizations. We can make an awesome profile photo for social networking by applying its hundreds of mindblowing filters and custom text. It regularly updates its gallery of sophisticated designs and layouts to assist users in creating an ideal ambience with various filters. Moreover, users can change the app interface according to their requirements for customization
Photo Sketch Maker
Photo Sketch Maker, developed by Aero Tools, is a sophisticated app that allows us to conveniently transform our photos into visually appealing paintings and colored pencil sketches. We can draw sketches in various styles and colors according to our preferences. Moreover, it can support various formats like PNG, JPG, and JPEG.
The most splendid feature of this app that distinguishes it from other photo to cartoon apps is the pencil sketch filter that facilitates us to create high-quality pencil sketches. After dropping our photo into the app, we can select our favorite pencil color for drawing. Its exceptional performance and mind-blowing features have distinguished it among the top 10 drawing and sketching apps. It's safe to use as scanned by many antivirus malware like AOL active virus shield, clam antivirus, and AVG.
ToonHub: Cartoon Photo Editor
Like other photo to cartoon apps, ToonHub also employs cutting-edge technology for providing precise and sophisticated cartoon filters and effects. It provides a superb assortment of cartoon styles and layouts like renaissance, comics, 3D and 2D that help to create unique artistic expressions. It provides nice and fashionable templates with fancy dripping effects and special filters to design the most discerning aesthetic sensibilities.
Its AI-powered photo editing tools, like cutout and retouch features, enable us to enhance our photos with remarkable accuracy and detail. It facilitates us to become favorites in superheroes and celebrities by creating accurate and high-grade effects full of fun. Its software program is integrated with smart artificial intelligence and offers a cartoon brush to customize everything according to the likings of users.
Artisan: Cartoon Photo Editor
Artisan a powerful app that comes with a cartoon photo editor and art photo filters, helps artists to create a work of art. It provides vivid filters and effects for creating animated thumbnails, collages, oil paintings, pencil drawings etc. Moreover, its cartoon photo editor and art photo filters assist users in replacing the background of photos with a vibrant new background by applying drip effects.
Furthermore, it provides an array of colours and textures for creating an amazing work of art. We can also use an avatar maker in this app to create enormous beautiful cartoons from the face. Moreover, we can modify them to present ourselves in different ways with different emotions. It facilitates us with selfie camera filters for converting our photos into cartoons and pop art accompanying glitch and retro filters.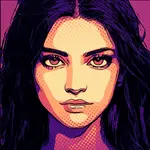 Toonita: Cartoon Photo Editor
Toonita, a sophisticated app with a user-friendly interface, allows users to turn photos into fun and engaging works of art by offering comprehensive tools for comics and cartoons. It empowers users to create a captivating work of art in 5 stages mentioned below:
Prepare: At this stage; users fix the orientation of an image by rotating, cropping, resizing, and removing the unwanted parts.
Stylize: In the stylized stage, users can turn their photos into cartoons or caricatures by using the built-in cartoon filters and by customizing them to adjust the line thickness, color of outlines, and shades of cartoons.
Adjust: At this stage, users can adjust the brightness, contrast, saturation, hue, sharpness, etc, to give a fine tune to their image. Moreover, users can create a shallow depth of field in the image by blurring some parts and by adding a vignette effect by darkening or lightening the edges of the image.
Stickers: At this phase, Toonita gives a choice to add fun and creative elements to the image by providing a wide array of stickers and decorative elements like speech bubbles and emojis.
Filter: At the filter phase, users can customize an image's color and toon for a classic look. Users can also adjust the opacity to get the filter's desired results.
Painnt: Art & Cartoon Filters
Painnt with many fully customized HD filters, powered by the most advanced AI technology, can turn our photos into masterpieces. By providing a beautiful color palette and sharp brush strokes it can turn our photos into a work of art that looks like a real painting.
It also enhances its stock of filters by regularly updating new and innovative filters along with vast and ever-expanding collections of over 1000 filters, ranging from classical to comic book styles and from modern abstracts to mosaics. This platform also provides an awesome community to engage with like-minded people for displaying artwork and getting feedback.
The enticing features of Painnt, like supreme excellence in quality, effortless ease of use for all operations, fast execution, and optimal level of automation, make it alluring to any discerning audience. Moreover, we can share our artwork with our family and friends through this platform. Its pro version provides many features, including oil painting, watercolor, pencil sketching, etc, to edit our photos dramatically.
Sketch Camera- Photo Editor
A magnificent array of filters in the sketch camera photo editor will change the images on the screen in real time while moving the camera around before capturing photos and video on a smartphone. We can take cartoon-style pictures from the front and back camera of a smartphone through this app and can also import images from storage.
Sketch camera will turn our images into cartoons through pen drawings, pencil drawings, oil painting, manga, charcoal, and polarised colors. It also provides pinch to zoom, autofocus, and sharing options.
TweenCraft: Animation & Comics
TweenCraft gives to our character an interesting and true emotion with a huge collection of animations and amazing facial expressions. Moreover, it gives a dramatic style to a scene by offering an array of music and sound effects like shouting, haunted, punch, etc. Along with photos, it also has a feature to create cartoon movies with selected characters and recorded dialogues.
We can create a meme by integrating the characters and dialogues based on a story, idea, or joke in our minds. It provides very impressive gestures including running, walking, flying, jumping, etc. that can be added to our short animations with full customization to make them more surprising for viewers.
We can create an amazing story by using a premade portfolio of amazing characters and scenes with interesting backgrounds like cafes, beaches, colleges, churches, schools, etc. More can become a part of social media celebrity by creating super shareable memes, animations, and small cartoon movies and by posting them as tik tok videos, instagram stories, Facebook statuses, and youtube videos by this app.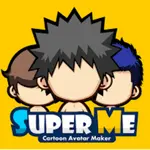 Avatar Maker Creator: SuperMe
SuperMe, developed by The-Demon, enables users to create personalized anime cartoon avatars with many customization options for hairstyles, facial features, and clothing. We can also add custom text to avatars and can remove backgrounds by this app.
SuperMe Avatar Maker Creator gives users the liberty to give shape to their imaginations in the form of cartoon characters. Moreover, we can customize cartoon characters by adding masks, hair, eyes, hats, glasses, and outfits to make them more interesting. Furthermore, we can share our imaginary creativity with friends on social networks.
Dreamscope: Photo to Cartoon App
Dreamscope, an exceptionally meaningful app to scrutinise, has unlimited features for users to turn their photos into cartoons. We can create various artistic styles, as it provides a free hand to customise our photos by adjusting colour palette, stroke length, brush size, etc.
The most inspiring feature of this app is the notification we receive after completing a complex art-generating task. It also provides an esteemed community where we can share our creations with others and can explore the awe-inspiring masterpieces of other talented users.
It's a versatile and comprehensive app with an intuitive and user-friendly interface, as users can easily adjust and refine their images. Moreover, it provides a premium plan to unlock additional filters, remove watermarks, and to save artistic images. It also provides an opportunity of showcasing our artistic creations to our dears on social platforms.
Also Read:
Final Words
In this article I've compiled some of the best cartoon apps along with their unique features in order to make your selection process breeze. I've selected these apps due to their exceptional quality and due to an array of customization options. You can bring a visual life to your imaginations by using intuitive interfaces and advanced features of these high quality apps. You can also use Remini MOD APK to enhance the quality of photos.