10 Best Photo Editing Software for PC in 2023 (Tested Reviews)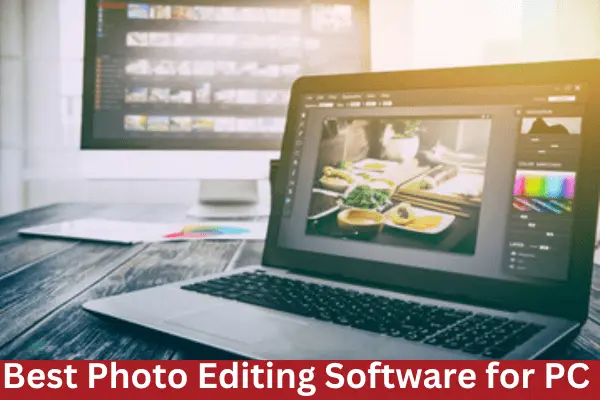 Have you ever wondered how you could give a perfect look to your photos on a large display screen? Maybe you've tried using essential editing tools with your PC, but they don't work. If you're a photographer, designer, or even an Instagram influencer, I've a surprise for you in this article. In this article, I've taken a deep dive into the best photo editing software for PC after tested reviews. You can make your photos ordinary to extraordinary by selecting one from these best photo editing software for pc.
Summary ( Our Expert Recommendation on Best Photo Editing Software for PC)
If you want an open source software, GIMP is the superb selection as it's alternative to photoshop in its features like layers and masks. We can extend its functionality by adding plugins and scripts. For those who are beginners and want to start their photo editing experience with a streamlined software, they should consider Corel PaintShop Pro or Affinity Photo, as both have a user-friendly interface and offer essential editing tools and features.
Quick Navigation Table: Select the Best Photo Editing Software
Photoshop
Photoshop, with a wide array of tools and features, has become a ubiquitous software that finds its usage among individuals from diverse backgrounds to this fast-paced world. It's mainly used by professional photographers, photo editors, and graphic designers to give an aesthetic appeal to photographs. We can use it in English, Chinese, Polish, Japanese, Dutch, etc.
Key Features:
It offers layers that allow users to manipulate images without affecting underlying pixels.
It keeps track of all the changes while manipulating an image and empowers users to revert variations by employing undo options.
Photoshop facilitates users to adjust colors, contrast, and brightness and to remove unwanted objects by providing crop, healing brush, and color balance tools.
It reinforces users to adjust the intensity and richness of colors in their images by providing hue and saturation tools.
We can select and manipulate any specific element in a scene through its selection tools.
With its clone stamp tools, it copies pixels from one area of an image and uses them to cover imperfections and duplicated areas.
The abundance of options and complexity of functions can be challenging for beginners, so it provides private training on-site for newbies.
Price: $20.99 per month or $239.88 per year
Paint.NET
Paint.NET, an image editing software, is designed with its intuitive and quickly learnable features. Its tabbed document interface TDI allows users to handle multiple images by clicking on corresponding tabs. It's similar to photoshop as both offer the same advanced features like drawing tools, layers, unlimited history version, and many special effects for photo editing.
Key Features:
It provides high-end graphic software features such as layers and effects.
It allows users to work with multiple layers by offering options to create new ones and to duplicate, merge, flip, rotate, and zoom the existing ones.
It provides fundamental photo editing capabilities, like minimizing noise, applying diverse kinds of distortion, generating 3-dimensional effects, enhancing sharpness, and eliminating red eyes.
Initially, it's designed to draw, so the drawing features of this software make it a favorite of professional artists.
It provides almost 800 active plugins in the plugin index forum to add more tools for magic editing, like transforming tools, pens, brushes, masks, and blend modes.
It offers a highly intuitive and ebay-to-use interface than Photoshop.
Price: We can use it free of cost, but its latest version available in window stores demands $8.99/month.
PhotoScape
Photoscape, developed by MOOII Korea, is available for all operating systems like Windows, Mac, and Linux and provides all filters and effects that are compulsory for any photo editing software. It offers a wide range of tools to perform standard enhancements like cutting, resizing, printing, GIF animation, and color adjustment.
Key Features
It provides a wide range of font designs, file formats, textures designs, animation effects, color effects, and templates.
With its page feature, we can combine two photos to convert them into a single shot, while its combine tool allows us to create a collage of multiple images.
Its splitter tool enables us to divide photos into different parts.
It gives control of various tools to users at the bottom of the window, such as film effects, re-order, undo, auto level, sharpening, etc.
Its built-in filters, including Vignette, Jitter, Cellophane, Linear gradient, etc., are sufficient to fulfill the users' needs.
We can make our image more stunning by adding frames, icons, and other elements and by leveling the colors, contrast, and brightness through this best photo editing software for PC.
The most exciting feature that differentiates it from other photo editors is its ability to make reusable settings. With this feature, we can apply the features and effects of a photo to numerous photos.
Price: It provides a free version with many features and also a pro version with enhanced capabilities for $39.99 per month.
Canva
Canva, the most accessible graphic designing tool, has 600 thousand of pre-built templates and elements for creating graphics, videos, infographics, presentations, GIFs, etc. for casual and professional users. The latest data reveals that the usage of this tool has reached an unprecedented peak, as 120 million monthly users were experienced in September 2022.
Key Features
It comes with 100 design types, over a hundred thousand stock photos, and 250,000 templates free of cost.
It can store our projects, including designed images, videos, and presentations, up to 5GB in its cloud storage free of cost.
We can design logos, thumbnails, cover pages, posts, and videos for social media platforms free of cost with customized sizes.
We can upload images for editing, resizing, collage making, adding new elements and for removing existing components.
Moreover, we can resize every element in the design according to our desire.
It's more beneficial in education for the creation of presentations with different designs of slides. Canva has introduced an innovative approach for effortlessly creating presentations through automated means.
It allows users to add text to designs and enables them to customize it by providing different font styles, sizes, and effects.
With its drag-and-drop option, we can set any element at any place in the template.
Some of its templates are only accessible after upgrading its pro version as it doesn't allow removing watermarks free of cost.
Price: $14.99/month for a team of up to 5 people and 119.99/per year.
GIMP
GIMP(GNU Image Manipulation Program), available for Linux, Mac, and Windows, is an open-source program with the same editing capabilities as photoshop. It can be enhanced and expanded by integrating plugins and extensions, enabling it to perform a diverse range of tasks with remarkable ease and efficiency.
Key Features
It's open-source software that can be used as an image renderer, image format converter, online batch processing programme, simple paint program, photo retouching program, etc.
Its official website provides more than 20 tutorials for beginners and experts.
It offers potent painting tools, including Clone, Pencil, Airbrush, Brush, etc.
It implements sub-pixel sampling for all paint tools and allows high-quality digital image anti-aliasing.
Through its color menu, we can adjust an image's brightness, color, temperature, exposure, shadows, curves, levels, etc.
It can perform magic on all image formats, including PNG, TIFF, TGA, SVG, XPM, JPEG, BMP, PSD, PCX, MNG, and GIF.
Its performance is similar to photoshop, but there's a slight dissimilarity in the placement of menus.
It enables users to change the geometry of an image by providing a set of tools for cropping, rotating, and transforming. Moreover, it offers users to change the format of an image.
Price: $19.99 per month
Capture One
Capture one, similar to photoshop, is a powerful, comprehensive, and brilliant tool for adjusting fine detail points on images. This software is at the top of the list in reviews of professional photographers for the best photo editing software for PC due to its fast processing in retouching, enhancing, and organizing images. It can create professional-grade photos by editing large batches of photos quickly.
Key Features
The most attractive feature of this software is Tethered shooting which allows users to connect a camera to a computer and make an adjustment in real-time using the powerful adjustment tools of Capture One.
It can support Canon, Nikon, Sony, and Leica for tethered shooting.
It offers layer editing like Photoshop as well as digital photo importing, image adjustment, and many organizational features.
Its color editing tool enables us to adjust the saturation, hue, highlights, shadows, mid-tones, and luminance of any color in an image without changing other colors.
For beginner photographers, there is an official online tutorial by the company to create a flow in work while using Capture One.
Its built-in camera calibration profile supports the original tone of the photo without any unwanted changes in it.
It enables users to work on a centralized dashboard for capturing, editing, sharing, printing, and RAW converting.
Price: $24 per month or $179per year
Corel PaintShop
Corel PaintShop, a powerful photo editing software, provides many tools and features to enhance, edit, and manipulate digital images. It's a fantastic tool for amateur and professional photographers like graphic designers to create stunning visual content. Users can apply advanced techniques like layering, masking, and composting to complete complex tasks and can perform basic editing like cropping, resizing, and adjusting color and contrast.
Key Features
It can support raster and vector images so that users can work with various file types, including JPEG, PNG, TIFF, and SVG.
Its range of automation tools and batch-processing capabilities enable users to save time and to streamline their workflows.
Users can boost their productivity by arranging and customizing palettes and toolbars and by adjusting the size, color, and appearance of icons and fonts in Corel PaintShop.
Corel has enhanced many features in its updated version, including general performance, real-time blend mode preview, snap to objects, AfterShot Lab, AI background replacement, AI Portrait Mode, and Frame Tool.
It offers fancier tools for making digital photos more appealing, like AI Artifact Removal, AI Style Transfer, and AI Upsampling.
It offers frames for placing images inside different shapes.
Various creative tools like brushes, drawing tools, color palettes, gradients, patterns, and picture tubes are readily available to turn the users' designs to the next level.
Price: $7.99 per month
PicMonkey
PicMonkey, with a wide range of editing tools from basic cropping to graphic art, is beneficial for both beginners and professionals. Due to its many templates, fonts, add-on graphics, and user-friendly interface, it's become my favorite tool. We can get top-shelf results due to its powerful and easy-to-use photo editing tools and due to social media integration features.
Key Features:
After editing, it enables users to share their creativity on Instagram directly.
Users can use its soft effect to blur the area around the focus subject and to emulate a shallow field depth in images.
Color changer tools enable users to tweak Hue, Saturation, and Luminance in each of the 8 hue regions in an image.
Its eraser and paint brushes help to create fine-tune-in images.
It empowers users to introduce a professional brand look in their channels by providing matching templates for Instagram posts and logos.
Its pro background remover allows users to eliminate backgrounds in one click.
Its touch-up tool equips users to give the royal treatment to their portraits.
It provides many layout grids for collage making and allows users to mix up their pictures, stock photos, videos, and colors to these layout grids.
We can customize fonts using color palettes and color effects features and can create watermarks.
In its pro-plan, it offers intuitive collaboration features, but this feature is more affordable in canvas.
By its frames and museum quality, we can give a hip and happening look to our photos
Price: $7.99 per month
PhotoPad
PhotoPad, an award-winning photo editing software, offers various effects and features to modify many image formats. From basic tasks like cropping, rotating, resizing, and flipping to advanced photo editing, its performance shows that it can genuinely make our photos stunning. It can support several image formats, from RAW images to JPEG, TIFF, and PNG.
Key Features
It offers numerous photo effects, including sepia, cartoon, oil paint, vignette, and many more.
It also allows users to enjoy advanced features similar to Remini Photo Enhancer like removing red eyes and skin blemishes.
Like many other photo editing tools, it offers different levels of contrast, brightness, hue, saturation, and several other adjustments.
Users can easily undo, reorder and edit existing effects and take screenshots of their PC screen.
With its machine learning technology, it can automatically add super colors to black and white photos.
It improves the quality of photos by using noise and blur-reducing tools.
It offers a clipart library and tools to add text and captions to images.
It can create collages, mosaics, and panoramas.
Its censor effect enables users to hide or blur text and faces.
Price: $19 per month
Affinity Photo
Affinity Photo, a graphic design tool, provides a centralized platform for professionals to edit images by editing metadata, merging dynamic ranges, adding copyright information, and rendering. It works with raster and vector images and allows users to view the preview of edited images. Moreover, by its focus stacking functionality, users can combine multiple pictures.
Key Features
It provides patch removal tools or inpainting brushes to remove blemishes or unwanted objects from images.
Its retouching tools like Dodge, Burn, Clone, Patch, and Blemish removal work with incredible speed and power.
We can zoom an image at a maximum refresh rate and can create multi-layered compositions and beautiful raster paintings.
Users can boost their creativity in photo editing by applying its batch processing, professional retouching, panorama stitching, 360-degree image editing, and PSD editing.
We can use it as an alternative to Adobe Photoshop to open and edit Photoshop document files.
It enables users to make their photos alluring by providing features for noise reduction, shadows, and highlights creation, black and white editing, etc.
It provides various shortcuts, like duplicating active layers,to increase the users' editing speed.
Users can easily adjust feathering, smoothing, and anti-aliasing.
Its layer methodology gives flexibility to users to design and edit photos.
It can create many personas, including photo persona, liquify persona, develop persona, and export persona.
Price: $49.99 per month
Read also:
Final Thoughts on the Best Photo Editing Software for PC
Finding the best photo editing software for PC can be a game changer for photographers, designers, and casual users who want to take their photos to the next level. Now you can easily select the best photo editing software according to your level of experience, budget, and type of photography. However, Adobe Photoshop is the gold standard due to its unparalleled power, versatility, and comprehensive toolset including advanced layers and mask